The Shop
Real customers – real business – real opportunities for teenagers with special/additional needs to have work experience for the first time

Wren Spinney Community Special School is a secondary school for pupils with severe and profound learning difficulties catering for young people from 11 - 18.
Real life opportunities in terms of work experience, vocational education, and enterprise, are virtually non-existent for young disabled people in many parts of the country, Kettering being one of them. Therefore, young people with severe learning difficulties are in danger of being socially isolated and disadvantaged by their disabilities.
To this end Wren Spinney Community Special School embarked on an exciting project, opening 'The Shop' in the town centre that now serves as a satellite base for young people to access local facilities, work placements and community activities, using public transport whenever possible.
Whilst working in The Shop the young people are able to study for qualifications that will support them in seeking employment in the future. The Shop also offers opportunities for pupils from local mainstream schools to access the many learning experiences the project provides.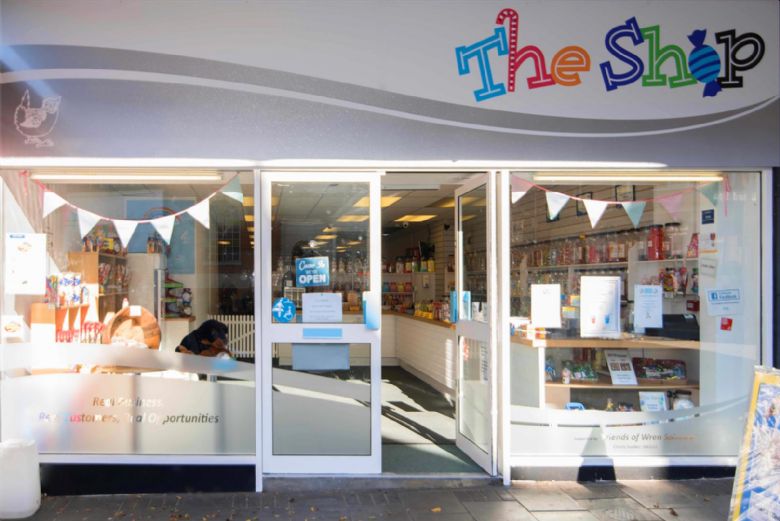 The Shop sells a huge variety of old fashioned sweets. Pupils were fully involved in every aspect of setting up the project and are responsible for buying stock, preparation of goods and serving behind the counter, making The Shop unique to Kettering. We even take baskets of sweets to different employers and to the elderly in various local residential homes; we simply leave a basket full of bags of sweets and a collection tin and leave these with people to buy their own, and we collect and replace a week or two later. We also put together gift baskets which can be on whatever theme the customer wants, whether toffees or chocolates or mints, or a retro selection, or a special selection for a birthday or for Valentine's Day.
Working at The Shop has been a great experience for our students, who grow in confidence and love serving the customers; and for our customers; they can see first-hand that our students are making a positive contribution to the Kettering community.
Please feel free to drop by, Monday-Saturday, to see us at The Shop (but make sure you bring some change with you so you can go away with a bagful of sweets!)
The Shop

13 Gold Street,

Kettering,

NN16 8JA

Tel: 01536 512627